Good Thursday morning everyone! Just another day and then it's the weekend! Hang in there!
I have nothing much to say right now as my mind wanders off into a glorious weekend ahead! Let's cut to the chase.
Here's a comic for you to kill some time before the weekend officially begins!
"Oh, yeah? Like killing only what? 20 seconds?"
Shut up.
Enjoy today's comic!
Seriously, Jon. Why didn't you stop?
Here's the thing: Don't f*** with Jasmine.
Apparently that never got into the logic of the bros in the house.
It's like I already knew what happened.
Yes, Jasmine is the only girl that lives with the bros in the house (in case many of you have yet to realise that). How does she manage to bear living with the bros, is another one of the world's unsolved mysteries.
Oh yeah! BEFORE I sign off, as you might have known, the
Nuffnang Asia Pacific Blog Awards 2011
is coming and the voting phase has begun! No, I did not get nominated but that's okay. I'm still an Internet noob. Somehow, not one, BUT TWO awesome friends of mine are nominated instead! I'm jealous, but how cool is that?! They are: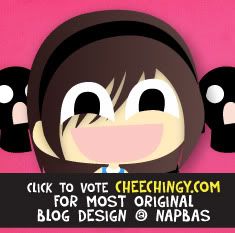 Chee Ching
from
cheechingy.com
for the "Most Original Blog Design" category (she was bad-ass enough to come up with that cute picture you see above which is very clicky and very awesome) and our favourite booby loving "sei ham sap lou"...
Not a clicky link thingy. Sorry.
...
Kenwooi
from
kenwooi.com
for the "Hidden Gem" category! Very glad that he is nominated for this category rather than some bullshit hack of a jackass blog.
So, do vote for them as they are representing Malaysia for those two categories! If you are a Malaysian, do it for Malaysia! If you are not Malaysian, do it cause they are seriously awesome! Also, if they do win, it will make me feel good. Help make me feel good. Seriously.
Vote now
!
Have a great weekend everyone!
Tweet